Myolight (Microcurrent)
Microcurrent with LED Light-  Microcurrent Facial toning sends safe, painless impulses to the muscles in your face that help overly tightened muscles to relax, and helps underworked muscles to regain strength. In essence, facial toning "re-educates" the facial muscles and restores them back almost to their original state. When this happens the visible results can be quite dramatic and the face is toned, firmed and lifted back to a much more youthful appearance. And, at the same time the Microcurrent improves circulation to your face, which stimulates collagen production, improves tone and texture, and eliminates or diminishes fine lines.
Benefits include, skin tightening, firming, elimination of sagging skin, smoothing, elimination of puffiness, improved muscle tone, and the overall enhancement in the appearance of the skin.
Additionally it is recommended to have a series of treatments to get and keep good results. $125
Diamond Abrasion
Microdermabrasion is a wonderful and innovative facial procedure! It is recommended for just about every skin type. At Afterglow we are using Diamond Abrasion. Using no crystals, Diamond Abrasion is a wand with a tip covered in tiny diamonds which gently abrade the top layer of skin and whisks it away with suction into a filter. This creates circulation in the skin, revitalizes collagen production, which stimulates renewal of younger looking skin.
This wonderful treatment is helpful in treating aging and sun damaged skin, fine lines and wrinkles, acne and some scarring, stretch marks, pigmentation and age spots. It is effective in treating the under eye area and crows feet. Results with Diamond Abrasion will be improved skin tone, reduced visual appearance of aging, diminished appearance of scars, refined pores, fewer breakouts, renewed elasticity, and an overall healthy glow.
Diamond Abrasion is safe, painless, non invasive with no side effects. Your skin will look fresh and glowing almost immediately after the treatment. At Afterglow we recommend a series of treatments to get and keep good results. $100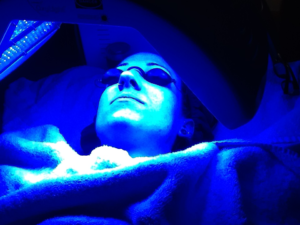 LED Light with Oxygen
LED alight emits energy producing waves of light into the deeper layers of skin. It converts light energy into cell producing energy.  LED lights are used for healing post surgery and for skin rejuvenation.  LED Light has different colors that affect different results for skin.  For example, blue LED, treats acne and destroys the bacteria under skin that causes acne.  Red LED stimulates cells that increase ATP production.  Stimulates collagen and elastin production.  There are 7 different LED Light colors that are used at Afterglow. $65            
Biosonix  (Ultrasound)
Coupled with LED Light, delivers serums and nutrients through the skin via a process known as phonophoresis.  Stimulates lymph flow. $45
Oxygen Infusion, Oxygen Spray
Infuse active products.  For anti-aging and acne treatments, or post surgery.  Improves the overall appearance of skin. Infusion – $45, Spray – $35
Dermaplaning
Dermaplaning is a very effective, safe physical exfoliation procedure. Removes the accumulation of dead skin cells, leaving the skin soft and vibrant. This highly effective method of skin rejuvenation treats sun damage, acne scarring, uneven skin tone and enhances the results of peels and product penetration. With mask or peel – $90, Without – $75.
---